Lemat Ethiopian Restaurant and Café is named after a handwoven Ethiopian basket for injera, a large sourdough flatbread (heaven for gluten free dieters). Our vegetable, vegan and meat dishes are served in the form of wot, a thick stew, or tibs, a sautee of a grilled meat along with vegetables, served over injera.
To commemorate that the origin of coffee is firmly rooted  to  Ethiopia's  history,  Lemat  also  serves  patrons  with  traditional Ethiopian  coffee ceremony. The displays in the restaurant are additional attraction on their own and tell the story of Ethiopia which many historians believe is the cradle of mankind.
Customers love our Restaurant
3 years of experience and practice
Delightful food, service and atmosphere. Couldn't ask for anything better!
Thank you for the amazing catering service you delivered to our wedding! Lemat catered delicious food, with a presentation that is pleasing to the eye. Gezu, from Lemat Ethiopian Restaurant, came to our venue prior to the event and completed a walk through with us offering suggestions and ensuring all necessary equipment was arranged....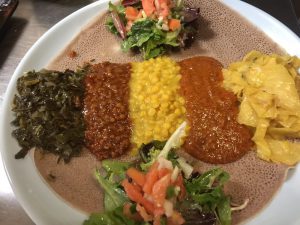 Catering for special Events
We provide catering services to all events:  wedding, birthdays, graduation or corporate events.
Send your inquiries to:
Phone: 510-430-2717
Email: gezu@lemateats.com
Follow us on social for exclusive offers!
Get exclusive deals, offers and rewards!
Come for OUR 100% TEFF INJERA and stay for the authentic flavors and Ethiopian hospitality. Lemat Ethiopian Restaurant welcomes you to enjoy selection of mouth-watering vegetarian, vegan and meat dishes. Come and join us for the delicious food, warm-hearted hospitality, the ambience of early home of civilizations and traditional coffee ceremony.